When Ashraf Masih Chaudhry's 14-year-old daughter did not return home from a nearby shop in Lahore's cantonment area on Jan 4, 2022, the family set out to find her.
Chaudhry's eldest son Akram said that his sister Mahnoor had gone to a nearby shop with her 8-year-old nephew around 9am on the day of the incident.
"My nephew returned home alone. When my other sister asked him about Mahnoor, he told her that some persons had taken her with them. She immediately informed us and we began searching for her," said Akram, a mason by profession.
Akram told Kross Konnection that upon inquiry, they found out that their Muslim neighbour Muhammad Ali Khan Ghauri and some other persons had taken Mahnoor.
READ MORE: READ MORE: Child bride returns home, court ruling triggers debate on religious conversion
"Ghauri is 45 years old and is father to two children. His house is opposite our residence and our families had good terms with each other. We don't know when he managed to lure Mahnoor into a relationship," he said. He added that the accused was also missing from his house since then.
Akram said that the family registered an FIR [First Information Report No. 58/22] with the South Cantt police on Jan 5, but the investigating officer was slow to act on their case.
"Finally on Jan 7, Ghauri's family informed us that Mahnoor had converted to Islam and married Ghauri on Jan 4, the day she was taken," he said, adding that his father had now moved an application with the police to charge all those involved in abducting, forcibly converting and marrying the minor child with her abductor.
READ MORE: 'Hear Her Cries': Petition against Pakistan forced conversions lands with UK envoy
"Ghauri abducted Mahnoor with help from his friends Muhammad Waqas, Raza Ali and Muhammad Imran while Muhammad Ibrar solemnized the Islamic marriage despite knowing that she is a minor," said Akram.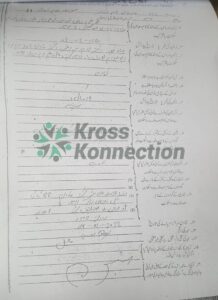 He added that the Islamic marriage certificate mentions Mahnoor's age as 19, whereas her official birth certificate shows she was born on August 19, 2007.
According to Akram, the police was yet to recover the girl and produce her before the family.
"Mahnoor is only 14 – she's just a child who made a mistake by falling into the trap of a much older man," he said.
'CHILD MARRIAGES A CRIME'
Child marriages are criminal under Pakistan's Child Marriage Restraint laws. While Pakistani law recognises intercourse with a girl below 16 years of age with or without her consent as rape punishable by death, courts have repeatedly held that marriage of an underage Muslim girl cannot be termed invalid because Islamic law holds that a consenting girl who has reached puberty can marry, human rights lawyer say.
Mahnoor's abduction adds to the growing list of underage Christian girls who have been allegedly forcibly converted and married to their Muslim abductors, particularly in Punjab and Sindh provinces.
READ MORE: EU tells Pakistan to ensure minorities' protection, human rights for GSP Plus extension
On July 1, 2021, the Lahore High Court sent Nayab Gill, a 14-year-old Christian from Gujranwala, with her alleged 30-year-old Muslim abductor. Both the trial court and the high court rejected her official birth documents and accepted her verbal claim in court that she's over 18 years old.
Nayab's parents have appealed to the Supreme Court of Pakistan with help from the moderator bishop of the Church of Pakistan for their daughter's recovery. However, the appeal has not been taken up for hearing till date.
The Supreme Court in July 2021 had also rejected an appeal filed by Church of Pakistan Moderator Bishop Azad Marshall challenging the rejection of his constitutional petition seeking the top court's intervention in the forcible conversion and underage marriage of Christian girls.
Bishop Marshall's petition stated that courts accord a degree of permanence to the abduction and forcible conversion of Christian girls by allowing them to marry Muslims without ascertaining the pressures coming to bear on girls when they make declarations of consent before trial and high courts, nor taking into account their intellectual, emotional and social maturity.
It added that such declarations of consent are not investigated to ascertain whether they are voluntary or result from threats, psychological abuse and conditioning and fear of social stigma and rebuke.
READ MORE: Setting minimum age for marriage not un-Islamic, says Federal Shariat Court
A parliamentary panel on minorities had last year forwarded key legislation to the government on curbing forced conversions of minority girls, recommending that only adults should be allowed to change religion and only after appearing before a senior district judge.
The government of Prime Minister Imran Khan, however, strongly opposed the legislation. Federal Minister for Religious Affairs Pir Noorul Haq Qadri categorically stated that the government is opposed to a restriction on religious conversion before the age of 18 years.
"If someone aged 14 years wishes to convert to some other religion, they could not be stopped," the minister commented during a meeting of the Senate parliamentary committee on minorities' rights on July 14, the same day the Supreme Court rejected Bishop Marshall's appeal.
Qadri added that if someone wished to change their religion before reaching age 18, it was their choice, and that "a Nikah [Islamic marriage] or marriage before 18 was another discussion."
The US State Department in December 2021 re-designated Pakistan among nine other "Countries of Particular Concern" for severe violations of religious freedom. Previously Pakistan had been added to the list on Nov. 28, 2018.
About Post Author