A 3,210-signature petition has been submitted to the office of the British Prime Minister's special envoy for religious freedom calling for more action to stop the forced conversion and marriage of Christian and other minority faith women and girls in Pakistan, sources said.
The petition was submitted by Catholic charity Aid to the Church in Need on Dec 15, at the Houses of Parliament in Westminster. It was part of the charity's #RedWednesday 2021 campaign which climaxed with the launch of the report Hear Her Cries – the kidnapping, forced conversion and sexual victimisation of Christian women and girls.
Conservative MP Sir Edward Leigh, Scottish National Party MP Dr Lisa Cameron and Morris Johns, secretary to the All-Party Parliamentary Working Group for Pakistan Minorities, who have all campaigned for Christians and other minority faith girls and women, were also present during the submission event.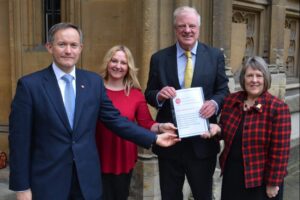 According to an ACN report, while receiving the petition on behalf of the UK Government, special envoy Fiona Bruce said she was committed to taking action "to stop this denial of freedom which impacts the lives of so many young girls in such a fundamental way".
Dr Lisa Cameron reportedly announced that, as vice-chair of the Foreign Affairs All-Party Parliamentary Working Group, she would call for a meeting with Moazzam Ahmad Khan, the Pakistan High Commissioner to the UK to discuss the issue.
Dr Cameron said: "I have a teenage daughter myself and I am personally committed to rooting out this appalling cycle of violence and denial of religious freedom."
ALSO READ: On Human Rights Day, Pakistan's religious minorities demand protection from State
Sir Edward Leigh said: "Be it in Pakistan, Nigeria, Mozambique, and many other countries besides, we are seeing an epidemic of acts of cruelty and brutality in which young Christian and other faith minority girls and women suffer – and far too little is being done to stop it."
According to the charity, the petition will also be submitted to the United Nations.
FORCED CONVERSIONS IN PAKISTAN
Civil society organisations, rights activists and religious leaders claim that hundreds of women and girls from Pakistan's Hindu and Christian communities are abducted, forcibly married and converted to Islam every year.
They say that though the exact figure of underage girls who have been abducted and forcibly converted remains unconfirmed due to absence of any proper research, both by the government and non-government organizations, the primary responsibility to investigate, nevertheless, lies with the Government of Pakistan.
"Many victims are minors taken from their families, sexually assaulted, married to an assailant, and held in captivity justified by falsified marriage and conversion documents," the US-based persecution watchdog International Christian Concern says. "Violence, threats, and grooming tactics are used to compel victims to make statements in court supporting their captors."
ALSO READ: EU tells Pakistan to ensure minorities' protection, human rights for GSP Plus extension
Religion is often injected into cases of sexual assault to place religious minority victims at a disadvantage, ICC previously reported, adding that perpetrators play upon religious biases to cover up and justify their crimes by introducing an element of religion.
REJECTED BILL IMPERILS EU, US TRADE EXEMPTIONS
On Sept 23, the Federal Ministry of Religious Affairs and Interfaith Harmony had returned the draft of the Anti-Forced Conversion Bill to the Federal Ministry for Human Rights after raising objections on several clauses of the proposed legislation.
A press statement released by the Religious Affairs Ministry had stated that it was opposed to the clauses related to the 18-year age bar on religion conversion, appearance before a judge, and a 90-day waiting period, saying these restrictions were anti-Islamic, illegal and violated the fundamental constitutional rights of an individual.
ALSO READ: Misuse of blasphemy law, forced conversions to be curbed, govt assures church leaders
Meanwhile, the European Parliament stated that Pakistan's duty-free market access was linked with "rapid implementation" of international commitments on human and minority rights. The EU parliament has also adopted two resolutions that would put that access in jeopardy if Pakistan fails to adhere.
In an interview with a local news outlet, European Parliament Vice President Heidi Hautala said the two resolutions were a "signal" to the Pakistani government that there was no guarantee that the GSP Plus scheme will continue without further implementation of the UN conventions.
"We would like to see a bit more rapid implementation of the laws, particularly anti-torture law, sexual violence, and protection of women and children rights," she added.
The US State Department has also listed Pakistan as a country of particular concern under the US International Religious Freedom Act.
"I am designating Burma, China, Eritrea, Iran, the DPRK, Pakistan, Russia, Saudi Arabia, Tajikistan, and Turkmenistan as countries of particular concern for having engaged in or tolerated systematic, ongoing and egregious violations of religious freedom. We will continue to press all governments to remedy shortcomings in their laws and practices and to promote accountability for those responsible for abuses," said US Secretary of State Anthony Blinken.
About Post Author