The Higher Education Commission has banned Holi celebrations across all educational institutes saying that such activities portray a complete disconnect from the country's sociocultural values and are an erosion of the country's Islamic identity.
The move comes after pictures and videos from their Holi celebration went viral at the Quaid-I-Azam University (QAU) in Islamabad went viral on social media earlier this month.
In the notification, HEC mentioned that students are forbidden to follow this festival in order to adhere to "sociocultural values."
"While there is no denying the fact that cultural, ethnic, and religious diversity leads towards an inclusive and tolerant society, that profoundly respects all faiths and creeds; albeit it needs to be done so in a measured manner without going overboard. The students need to be apprised to be aware of the self-serving vested interests who use them for their own ends far from the altruistic critical thinking paradigm."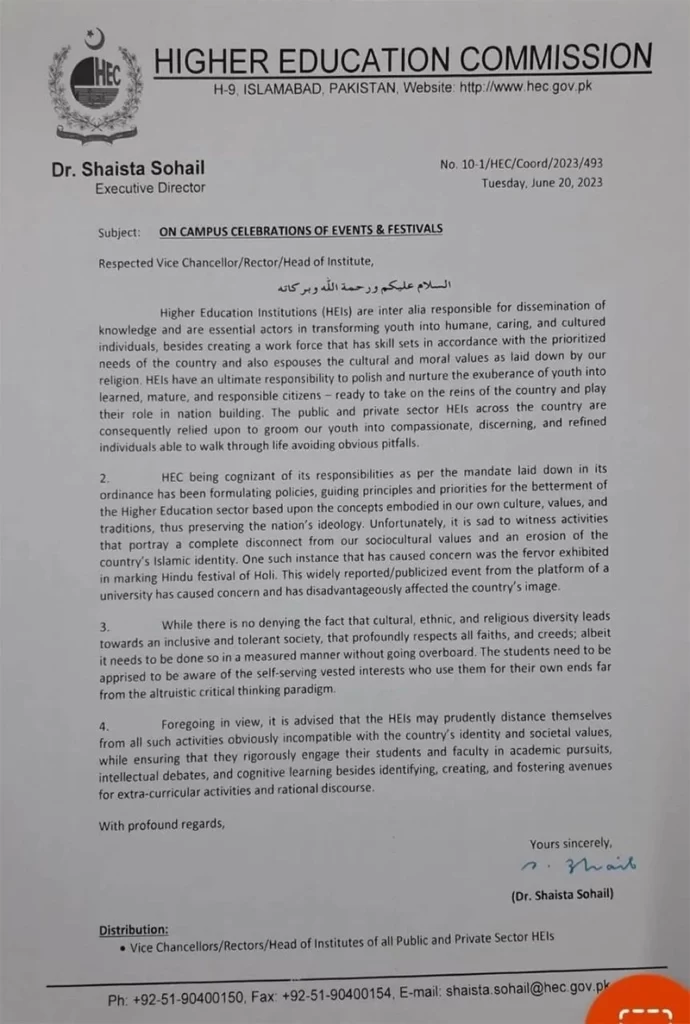 The event, touted as the "biggest Holi celebration in Pakistan," drew both praise and criticism from various quarters.
TV celebrity Anoushey Ashraf took to her Instagram Stories to share how disappointed she is by the HEC's decision to ban Holi celebrations in universities.
Ashraf, known for her outspoken nature and advocacy for social issues, did not hold back in her criticism of the HEC's decision. In her Instagram note, she lamented the lack of tolerance, celebration of all faiths, progress, and acceptance in Pakistan. She further questioned why the authorities were focusing on banning cultural celebrations instead of addressing the quality of education being imparted to students.
Distancing herself from those in power, she wrote, "So done with the people running the system, I wouldn't want to be counted amongst them. I don't identify as them, and I truly have zero respect for them. Unfortunately, Pakistan's their playground now." She added that the country is a far cry from the vision of Pakistan's founder, Quaid-e-Azam Muhammad Ali Jinnah.
"The disappointment is real. It's not the country Quaid envisioned. Ones who can get out, I guess it's okay to be a 2nd-grade citizen somewhere else than an oppressed, 3rd class citizen with no rights in your own country," she concluded, referring to people desperately trying to flee the country for a better quality of life.
Ashraf's post shed light on the disappointment many individuals who aspire to see a more inclusive and diverse Pakistan feel. The HEC's decision to ban Holi celebrations in universities is a shock to many. While the intention behind the ban may have been to prevent any potential conflicts or controversies. It has, nevertheless, sparked a wider discussion on the importance of embracing diversity.
"What a shame. HEC must apologise," tweeted Zulfiqar Halepoto.
Sindh journalist Veengas said that "Islamabad must understand that Holi/Diwali is part of the Sindhi culture —Islamabad neither accepts our Sindhi language nor does it honour the Hindu festivals."
Condemning HEC's decision to ban Holi, activist Ammar Ali Jan said that "HEC should be concerned about the dismal state of education in the country. Our universities are not even ranked in the top 1000."
About Post Author