Two teenage Christian girls were allegedly abducted on gunpoint by two persons in the Nankana Sahib district on August 11, their family said.
In an FIR [First Information Report] No. 507/21 registered with the Nankana Saddar Police Station on Aug 12, Mumtaz Bibi, the mother of 16-year-old Simran and aunt of 15-year-old Sheeza, claimed that the family had gone to Faisalabad to attend a funeral leaving behind her daughter Simran, disabled son Anoosh, and her brother Ghafoor Masih's daughter Sheeza.
"When we returned home, Simran and Sheeza were not there. My son Anoosh told us that the two had been allegedly kidnapped from outside the house by Ali Raza and Lali Iqbal," she stated in the FIR.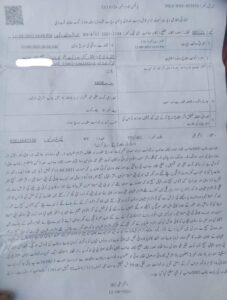 According to Mumtaz, her son Anoosh told them that Simran had left the house to buy some food items when Ali Raza and Lali Iqbal, who were already present there, bundled her into a rickshaw parked nearby.
"Anoosh said that upon hearing Simran's screams, Sheeza ran outside to help her but she was also forced into the rickshaw by the two abductors. Hearing the commotion, Anoosh  also stepped outside the house and witnessed the kidnapping.
"The boy shouted for help, prompting some neighbours to come outside of their homes. When the accused saw that people had started gathering on the spot, they pointed their guns at them and threatened to kill them if any person tried to rescue the girls," she said.
According to Mumtaz, the family tried to search for the two girls but couldn't find them. "We also went to the alleged kidnappers' homes but their houses were locked from the outside," she added.
The Nankana police has registered a case against Ali Raza, Lali Iqbal, Sabira Bibi, Sarang Chanan, Gongloo Sumendar and some other people who were nominated by the abductees' family. However, no arrest has been made by the time this report was filed.
'ABDUCTEES LIKELY TO BE CONVERTED, MARRIED TO ABDUCTORS'
Commenting on the incident, Church of Pakistan Moderator/President Bishop Dr Azad Marshall said that he feared that the abductors would forcibly convert the two girls to Islam and marry them to give their crime a religious cover.
"The modus operandi is the same in all cases of abduction of minority girls. First the abductors take the girls away, either by force or by seducing them (over a period of time) and then force them to make a declaration of faith change and marry them.
"It's unfortunate that police and judicial authorities accord a degree of permanence to such abduction and forcible conversion of Christian girls by allowing them to marry Muslims without ascertaining the pressures coming to bear on girls when they make declarations of consent before trial and high courts, nor taking into account their intellectual, emotional and social maturity," he said.
READ MORE: Court setback in forced conversion, underage marriages plea
Child marriages are criminal under Pakistan's Child Marriage Restraint laws. While the law recognises intercourse with a girl below 16 years of age with or without her consent as rape punishable by death, courts have repeatedly held that marriage of an underage Muslim girl cannot be termed invalid because Islamic law holds that a consenting girl who has reached puberty can marry.
"This principle has been repeatedly invoked by judges in the trial courts and high courts while handing over custody of Christian girls to their Muslim abductors," Marshall said. "Ironically, it is often ignored while deciding cases of minor Muslim girls, and they are returned to their families instead of their abductors/husbands!"
The senior church leader said that he and others have repeatedly reached out to Islamic scholars and government ministers to set parameters for religious conversion, but that there has been no sincere effort from the government to resolve the issue.
"The government officials are not willing to accept the fact that forced conversion and marriage of minor Christian girls is in reality a bid to cover abduction and rape of the girl child," he said.
Kidnapped girls commonly face threats that they or their family members will be killed if they do not testify in court that they converted and married of their own free will, rights activists and church leaders say.
GOVERNMENT OPPOSITION
A parliamentary panel on minorities earlier this year forwarded key legislation to the government on curbing forced conversions of minority girls, recommending that only adults should be allowed to change religion and only after appearing before a senior district judge.
The government of Prime Minister Imran Khan, however, has strongly opposed the legislation.
The Stymie Forced Religious Conversion Bill includes recommendations for validating conversion, stating, "Any person who is not a child and able and willing to convert to another religion will apply for a conversion certificate from the additional sessions judge of the area where the person ordinarily resides."
The bill calls for an application form that would include conversion candidates' current religion, age, gender, national identity number, reason for conversion and details of parents, siblings, children and spouse if any. The parliamentary committee suggested that the additional sessions judge shall set a date for an interview within seven days of receipt of the application for conversion.
"On the date provided, the person shall present himself/herself before the additional sessions judge who shall ensure that the conversion is not under any duress and not due to any deceit or fraudulent misrepresentation," the bill states.
The additional sessions judge may, upon the conversion candidates' request, arrange his/her meeting with religious scholars of the religion the person wishes to convert to, according to the draft. A clause also empowers the additional sessions judge to grant 90 days to the person to undertake a comparative study of the religions and return to the office of the judge.
"Only after satisfaction, the additional sessions judge may issue the certificate of change of religion," the draft legislation states.
Federal Minister for Religious Affairs Pir Noorul Haq Qadri, however, has categorically stated that the government is opposed to a restriction on religious conversion before the age of 18 years.
"If someone aged 14 years wishes to convert to some other religion, they could not be stopped," the minister commented during a meeting of the Senate parliamentary committee on minorities' rights on July 14, the same day the Supreme Court rejected Bishop Marshall's appeal.
"There are several incidents where someone expresses the wish to convert their religion out of their own choice before the age of 18. There are several examples in Islam of religious conversion before 18," Qadri was quoted as saying during the meeting. He added that if someone wished to change their religion before reaching age 18, it was their choice, and that "a Nikah [Islamic marriage] or marriage before 18 was another discussion."
The minister said that a proposal for setting the minimum age limit for marriage had been sent to the Council of Islamic Ideology.
About Post Author