The Punjab government has appointed Khurram Shehzad Mall as the first Christian deputy commissioner of the province.
According to a notification circulated on August 25, Mall has been appointed as deputy commissioner of Mianwali district. Before his new posting, Mall worked as deputy secretary in the Punjab Chief Minister's Office. He has also served as an additional deputy commissioner in Sindh's Tharparkar district in 2016 before his posting in Punjab province.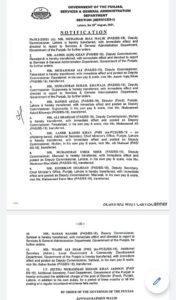 Ejaz Alam Augustine, provincial minister for human rights and minorities affairs, congratulated Mall on his appointment.
He posted on Facebook: "In Pakistan's history, Khurram Shehzad Mall has become the first Christian to be appointed as Deputy Commissioner Mianwali in Punjab. This only became possible in PTI's government."
Mall's appointment has been widely appreciated in the Pakistani Christian community.
About Post Author